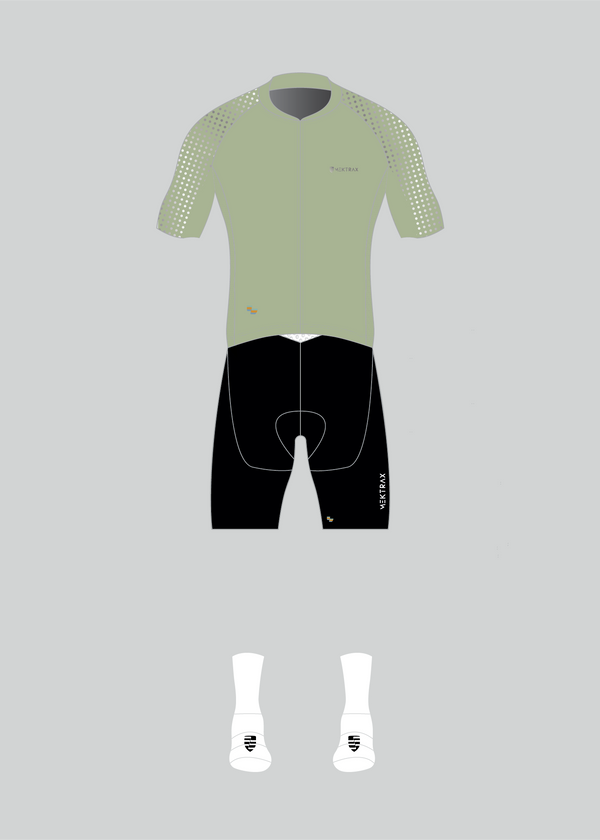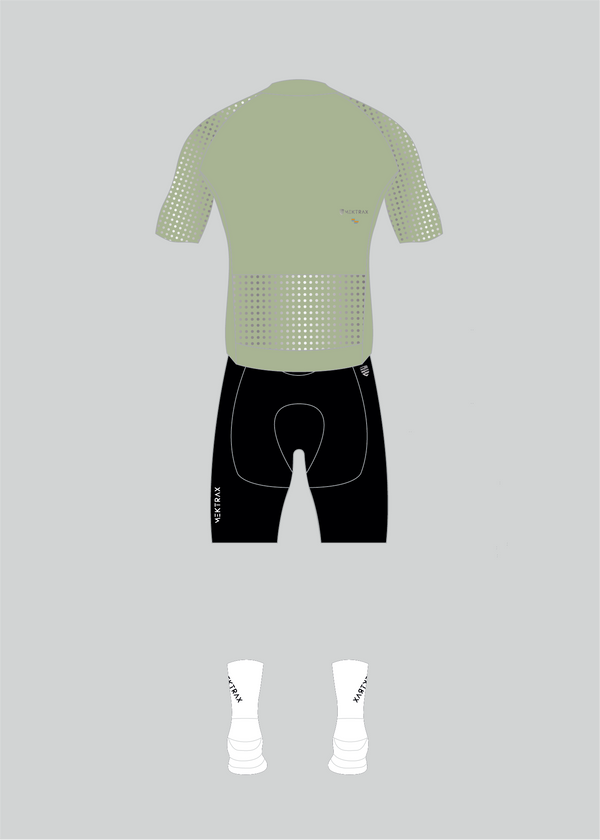 Kit1
Classic understated styling built from the latest in sustainable Italian fabric technology. Built for comfort and performance. Our dramatic reflective and durable print delivers a tremendous functional safety feature. 
This look is curated from the success of our Suit Jersey and race-proven Pro Edge bibs for comfort, endurance, and long training hours in the saddle. Trimmed with brilliant white socks to complete your image.
Featuring our proven, durable, and unique sustainable reflective material. Keeping you seen and safe even in low visibility conditions. Its design incorporates all Italian silk smooth, stretchable bi-elastic fabrics and elbow-length laser-cut sleeves for sleek aerodynamics, comfort, and performance.
Suit Stage 4 is the ideal jersey for the committed rider covering long hard training efforts, events, and the club day coffee rides. It is the perfect training jersey partner in preparation for our Echelon series or custom club race day jersey.
It has been extensively tested and proven in some of the most challenging ultra-endurance races across the globe, including Brazil, Oman, and Portugal. Its reflective printing makes the Suit Stage 4 compliant with the likes BikingMan and most local highway safety standards.
Our latest Bib has a clean sleek finish using our all-new BOOST Lycra fabric featuring high compression and support for maximum aerodynamics without the need for leg grippers or silicone. Once set it does not move no matter how long or tough the race or ride becomes.
This tough fabric has high abrasion resistance and has proven to resist tearing in falls. (hoping you never have to prove this of course)
Built for race performance and durability without compromising comfort. It has been designed with an all-new race-tested Paris HD pad providing 7 hours of support in the saddle. 
Lightweight classic sports performance sock with lightweight breathable upper foot and high compression lower foot and leg for key support. Super soft handle and just the right calf length for that all-critical sock game.
Level 2
At this level, you will also receive our Elite Summer Base Layer as well as 3 Elite socks.
All-new super lightweight second skin base layer using 100% recycled fabric. It ideally pairs with our jerseys to provide enhanced breathability and that extra comfort during cooler rides and early morning starts.
The 4-way stretch fabric delivers a second skin fit delivering advanced thermal properties, breathability, and comfort.
Level 3
At this level, you receive all of the above plus our tried and test Gilet and 4 Elite socks.
All these features have been fully proven and tested by our sponsored team Automatic Racing in training and Crit Race days.
Using a performance eVent ® fabric with a DV wind membrane provides wind and water protection as well as high breathability and stretch for maximum comfort. This lightweight fabric provides excellent protection from the elements yet is highly backable to fit into your jersey's rear pocket.